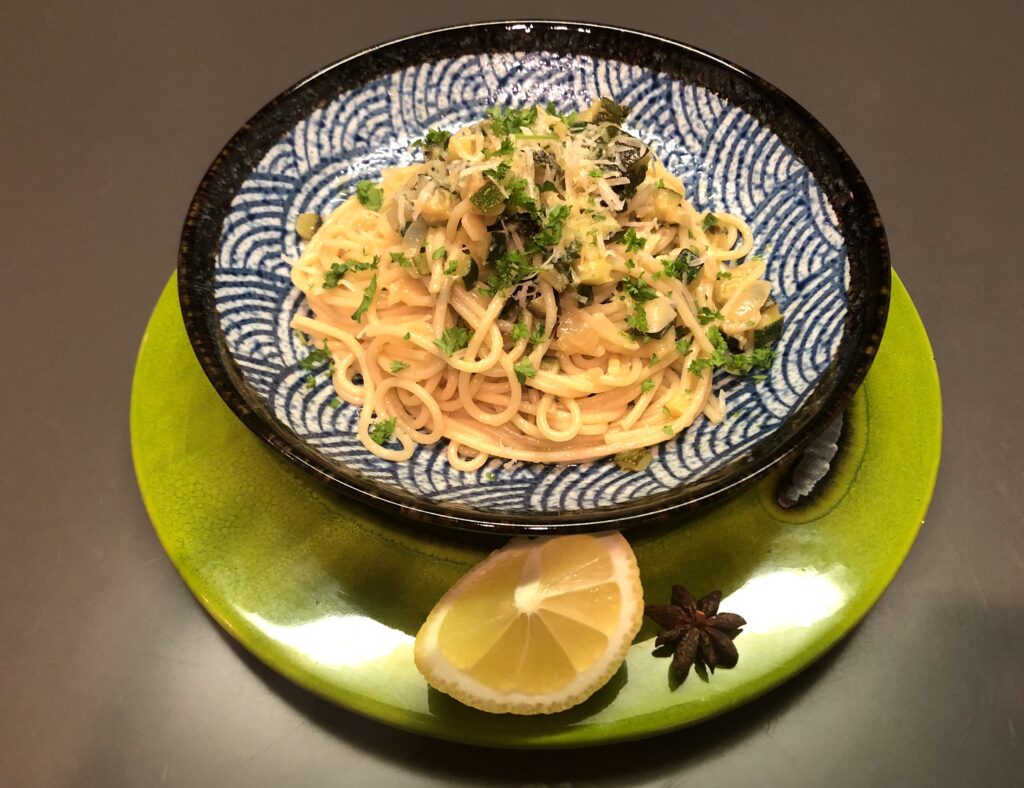 I made this pasta dish freestyle with ingredients I happened to have in the fridge and in the pantry. Turned out surprisingly tasty.
The only tricky part really is the very end when everything comes together in the sauté pan – I used a fairly big Sauteuse pan with sloped sides, which makes the last steps a bit easier.

This serves 2 hungry people.

Ingredients for Pasta with Courgette, Onion and Kale:
1 courgette
1 onion
1 big handful of kale
3 cloves garlic
0.5 star anise
1 heaped teaspoon of Dijon mustard
25 g of butter
100 ml white wine
250 g pasta
Wedge of lemon
Salt
Pepper
Extra Virgin Olive Oil
Parmesan
Flat-leaf parsley
How to make Pasta with Courgette, Onion and Kale:
Dice courgette into about 4 mm dice. Add to hot deep sauté pan with olive oil. Salt. Start sautéing.
Slice onion. Add to pan with star anise. Salt a bit more.
Slice garlic. Add to pan.
Sauté for a while until caramelised and looking good. Add butter, melt while sautéing. 
Add kale and Dijon, bit more salt. Stir then add wine, full heat to boil off alcohol. Lid on to make kale cook.
The idea is kind to make a kind of Beurre Blanc with wine, vegetable juices and butter.
Lid off, sauce is now kind of done. Take out star anise. Leave on low heat or even slightly off burner. 
Boil pasta water, salt to sea water level. Boil pasta. When almost done take out a good cup of the pasta water.
Drain pasta and add to sauce sauté pan. Add enough of your reserved pasta water to bind to a sauce (the starch in the reserved pasta water will bind the sauce), while stirring sauté pan over heat. Hit with Parmesan, parsley, some lemon juice and EVOO. Bind together to a nicely sauced pasta.
Serve immediately on warmed plates (so that the sauce doesn't seize).
Enjoy!