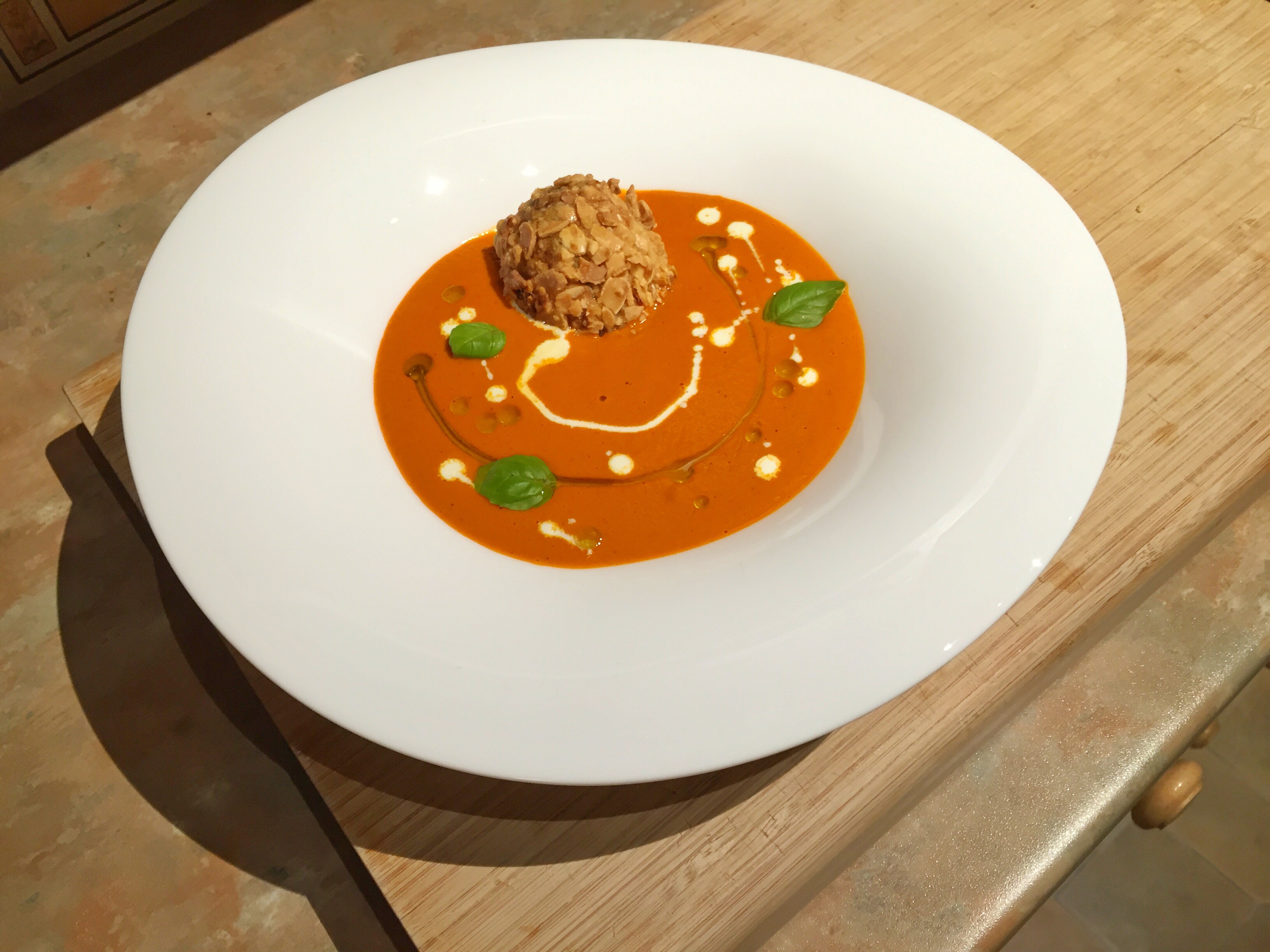 This soup is really easy to make and super tasty. The taste of peppers and almonds of course evoking Spain.
Ingredients for Roasted red pepper soup:
30 ml olive oil
25 g unsalted butter
1 banana shallot, sliced
2 garlic cloves, sliced
0.5 tsp smoked paprika
2 sprigs thyme, chopped
2 tbsp tomato purée
400 g roasted red peppers from a jar, drained
400 ml brown chicken stock
100 ml double cream, plus a bit extra for garnish
Basil
Salt (smoked salt preferable)
Pepper
Extra virgin olive oil
Ingredients for Almond potato croquette:
1 litre sunflower oil (or other veg oil for deep frying)
1 kg of bake potatoes
500 g rock salt
2 tbsp flatleaf parsley, finely chopped
100 g plain white flour
100 g flaked almonds
2 large eggs, beaten
How to make Roasted red pepper soup with almond potato croquette:
For the red pepper soup; start with heating the oil in butter in a saute pan, add the shallots, garlic, smoked paprika and thyme and saute for a few minutes. Add the tomato purée and cook it out for a minute or so until it turns from red to brown. Add the peppers, stock and about 10 leaves of basil and cook for about 6 minutes. Add the cream and cook for a few more minutes. Transfer to a blender and blend until silky smooth. Pass through a chinois and reserve until ready to plate.
For the croquettes; preheat the oven to 200C (non-fan), put the rock salt on a sheet pan and then put the potatoes on top. The salt helps draw out moisture making the final potatoes lighter.
Bake the potatoes in the oven for 90 minutes. When the potatoes are done, split them in half lengthwise while still hot, scoop out the hot flesh and pass through a tamis. Let cool down to room temperature.
Mix the parsley into the mashed potato, season with salt and pepper and then roll to little egg shapes.
Heat the oil for deep-frying in a saucepan to 180C.
Put the flour, beaten egg and almonds onto three separate plates. Roll the croquettes in the flour, then in the egg mixture and then in the flaked almonds.
Carefully lower the croquettes into the hot oil and deep fry for about 3 minutes until golden brown and crisp. Remove using a slotted metal spoon onto a plate lined with lots of kitchen paper.
When ready to plate carefully ladle the soup into warmed bowls, add a croquette to the bowl. Finish the soup with a drizzle of extra virgin olive oil, a drizzle of cream and a few young small basil leaves.