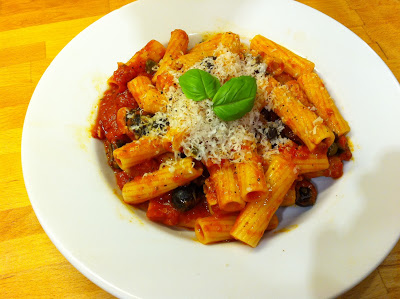 Pasta Puttanesca is a tasty pasta sauce originating from Rome.
I use a fairly traditional recipe with some of my own tweaks. What pasta to have it with is varying for me, but normally it's penne, rigatoni, spaghetti or linguine. It's a great and quick everyday pasta sauce.
This makes enough for 4 persons as a main course.
Ingredients for Pasta Puttanesca:
500 g dried pasta
5 tbsp extra virgin olive oil
1/2 tsp crushed chili flakes
Pinch of cayenne pepper
4 garlic cloves, finely sliced
6 anchovy fillets, drained and chopped
2 (400 g) tins of Italian plum tomatoes, chopped
1 tsp of tomato puree
3 fresh plum tomatoes, skinned and diced (optional)
150 g pitted black olives, thickly sliced
1 to 2 tbsp capers, drained and rinsed
About 5 – 10 basil leaves, torn
1 tsp dried oregano
1 – 2 tbsp chopped flat leaf parsley (optional)
Sea salt (preferably Maldon)
Black pepper
Preparing Pasta Puttanesca:
Heat the olive oil in a large frying pan over medium to high heat. Add the chili flakes, cayenne, garlic and anchovies to the pan. Cook, stirring constantly using a wooden spoon, until the anchovies have disintegrated. This will take about 5 minutes.
Add the tomatoes, tomato puree and dried oregano if using and cook, stirring occasionally, until thickened. This will take about 15 minutes. At this stage you can also put the pasta in the pot so it's ready at about the same time as the sauce.
About 5-10 minutes before the sauce is finished add the basil, olives, capers and parsley if using.
Also check for seasoning and season with salt and pepper to taste.
Drain pasta when it's al dente and toss with some extra virgin olive oil (this prevents the pasta from sticking). Add the cooked pasta to the pan with the sauce and toss to combine (alternatively poor the sauce on top of the pasta in the bowls).
Serve the pasta in warmed bowls. Grate over some parmigiano reggiano, drizzle over some extra virgin olive oil, a bit of milled black pepper. Add some chopped parsley and a few basil leaves.