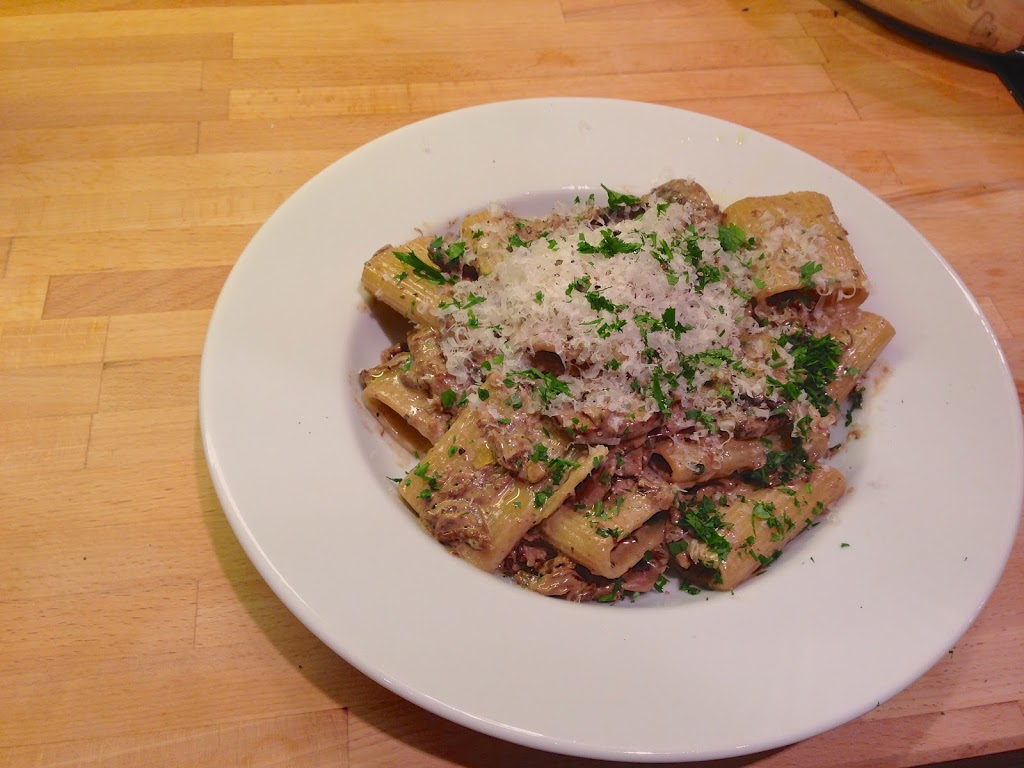 This is a nice robust pasta sauce for autumn and 100 % vegetarian.
Makes two large portions.

Ingredients for the Portobello-Porcini Pasta:
250g portobello mushrooms, sliced in 5 mm slices
50g dried porcini mushrooms, soaked in 200 ml warm water for 10 minutes
3 cloves of garlic, thinly sliced
2 tbsp fresh thyme leaves
100ml double cream
1/2 lemon
250g rigatoni pasta
Olive oil
Salt
Pepper
Splash of Noilly Prat vermouth, optional
Small handful of freshly chopped flat leaf parsley, optional
Small handful of freshly chopped basil, optional
Preparing the Portobello-Porcini Pasta:
Heat a large saute pan until hot. Add some olive oil and then add the garlic and thyme leaves. Saute for a few minutes.
Add the portobello mushrooms to the pan and saute for 15 minutes. They will release a bit of water so keep sauteing and "jumping them" in the pan until the water is absorbed back into the mushrooms.
Drain the porcini mushrooms using a finemesh sieve, reserving the soaking liquor. Wash them thoroughly under cold running water (sometimes they can have a bit of sand and grit on them). Chop the porcini mushrooms finely.
Deglaze the saute pan with a bit of Noilly Prat if using, scrape the bottom of the pan and boil hard to get rid of the alcohol.
Add the porcini liquor and the chopped porcinis to the pan. Saute for about 10 minutes.
Add the lemon juice to the pan and boil a bit, add the double cream and stir to incorporate. Add basil and parsley if using.
Boil the rigatoni according to the instructions on the packet (in water with plenty of salt).
Drain the rigatoni but reserve two ladles of the pasta water.
Add the rigatoni to the sauce and stir to combine, add some of the reserved pasta water if the sauce is too thick.
Serve in warmed bowls with plenty of parmesan, extra virgin olive oil drizzled on top and freshly milled pepper, add some parsley as well if you have some.