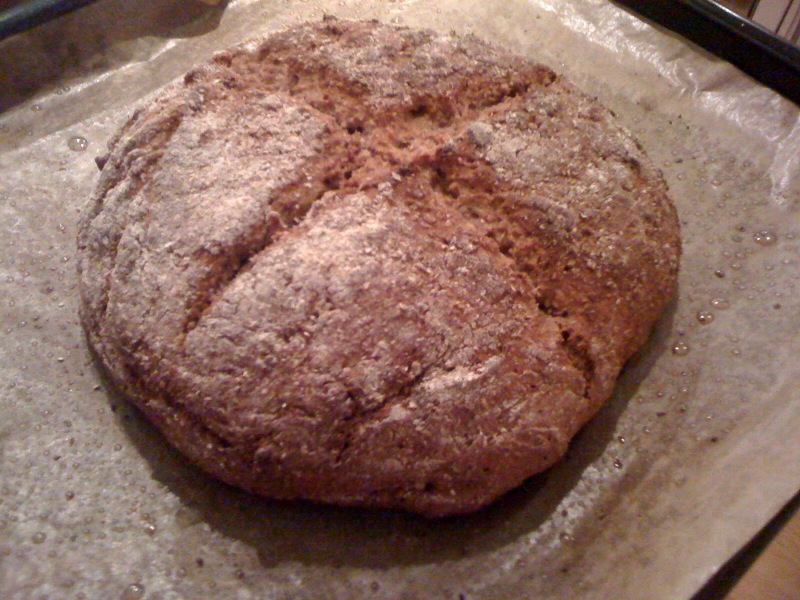 Found this recipe in the Guardian. It was really easy to do and tasted great. The recipe says that you should leave the bread in the oven for 30-40 minutes but we found that 30 minutes was enough and probably a little bit less would be better. I guess that depends on your oven though, we put it on the bottom part of the oven as well.
It was really nice with some butter and sliced parmesan, the cheese and the slightly sweet bread was a nice combination.
Walnut and honey soda bread
Sweet and savoury at the same time, with an incredible depth of flavour, this quick bread is wonderful with cheese.
Serves six.
200g walnuts
200g honey
500g wholemeal flour
4 tsp baking powder
10g salt
Preheat the oven to 200C/400F/ gas mark 6 and lightly oil a baking sheet. Divide the walnuts into two roughly equal piles. Put one half into a food processor or a mortar, then crush to a coarse powder. Using your hands, break the other pile of walnuts into large, rough chunks. Put the honey in a pan with 300ml water and heat gently until the honey dissolves.Put the flour, baking powder, salt and all the walnuts in a large bowl and combine. Pour in the honey water and mix to a soft dough.Turn the dough out on to a lightly floured surface, shape it into a rough, round loaf and place on the oiled baking tray. Slice a deep cross into the top, going almost right the way through to the baking sheet.Bake in the preheated oven for 30-40 minutes, until well risen and golden brown. Remove, set aside to cool and serve immediately – at the very latest, eat within 24 hours.