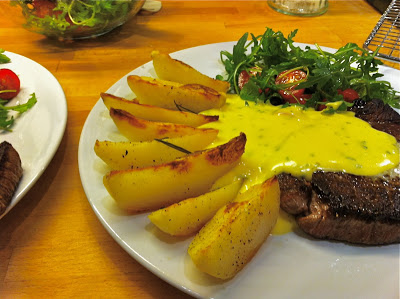 Ingredients for the potato wedges:
3 medium to large sized potatoes per person (I used Maris Piper)
Handful or so of fresh rosemary twigs
A few sprigs of fresh thyme
Two garlic cloves
Olive oil
Salt (preferably Maldon)
Pepper
Preparing the potato wedges:
Bring a pot of water to the boil and put in the thyme sprigs and garlic gloves (with their skins on but crush them a bit with a knife).
Turn the oven on to 200 C. Peel the potatoes and slice each one into six wedges. Put the wedges into the boiling water and let them boil for 5 – 10 minutes. Drain and discard the thyme and garlic.
Put the wedges on an oven tray, drizzle olive oil on top and mix them up a bit so they are all covered by oil. Turn the wedges so that the sharp edge is facing upwards. Season with salt and pepper. Tear off as rosemary leaves and distribute evenly over the potatoes.
Roast in the oven for 25 minutes. After 25 minutes turn the oven to grill, 225 C, to get a nice crispy exterior. After about 5 minutes under the grill the potatoes should be ready.
Turn off the oven and leave the door slightly ajar if you need to keep them warm.
Ingredients for the salad:
Rocket salad leaves
Baby plum tomatoes
Preparing the salad:
Cut the tomatoes in two, combine with the rocket leaves. Dress with the vinaigrette.
Ingredients for the vinaigrette:
50 ml Champagne vinegar
150 ml extra virgin olive oil
Salt
Pepper
Preparing the vinaigrette:
Make sure that the oil and vinegar is at room temperature since this makes it easier to form the emulsion. Whisk the vinegar and oil together in a bowl until a good emulsion is formed. Season with salt and pepper. It's better to prepare the vinaigrette 1-3 hours before needed to let the flavors meld.
More to follow…