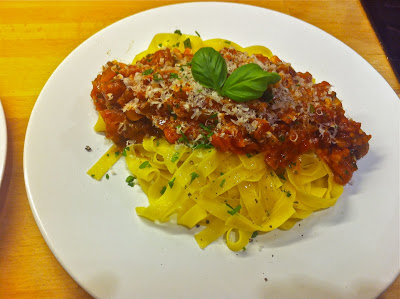 This is one of those pasta dishes that I make time after time again since it's so tasty and satisfying, and quick enough to make on a weeknight.
I can really recommend San Marzano D.O.P tinned plum tomatoes if you can get hold of them, they are amazing.
This recipe makes enough for two to three persons.
Ingredients for Pasta with Chorizo:
250 g dried pasta (fettuccine or tagliatelle)
100 g chorizo, diced
250 g mushrooms, diced
4 garlic cloves, chopped
1 – 2 normal sized red onions, chopped
1 (400 g) tins of Italian plum tomatoes, chopped
5 fresh plum tomatoes, skinned and diced
1 tsp of tomato puree
1/2 tsp crushed chili flakes
Pinch of cayenne pepper
1 – 1.5 tsp hot smoked paprika
About 5 – 10 basil leaves, torn
1 tsp dried oregano
1 – 2 tbsp chopped flat leaf parsley (plus extra for garnish)
40 g butter
Olive oil
Sea salt (preferably Maldon)
Black pepper
Preparing Pasta with Chorizo:
Put a large pot of water on the hob for the pasta.
Heat some olive oil in a large saute pan over medium heat. Sweat the onions for about 5 minutes and then add the garlic. Add the diced fresh plum tomatoes if using and then the tinned plum tomatoes and the tomato puree. Add the oregano, cayenne pepper and chili flakes. Let the sauce boil for about 10 minutes until slightly thickened.
Heat another frying pan over medium to high heat, add a bit of olive oil and then saute the diced chorizo. After a few minutes add half the butter. When the butter is melted transfer the chorizo to the sauce using a slotted spoon. Add the mushrooms to the frying pan and saute them off, season with a bit of salt and pepper, add the rest of the butter to the mushrooms. When the mushrooms look finished add them to the sauce together with the butter and juices. Add the smoked paprika to the sauce together with the parsley and basil.
Boil the pasta.
Drain pasta when it's al dente and toss with some extra virgin olive oil (this prevents the pasta from sticking). Add the cooked pasta to the pan with the sauce and toss to combine (alternatively poor the sauce on top of the pasta in the bowls).
Serve the pasta in warmed bowls. Grate over some parmigiano reggiano, drizzle over some extra virgin olive oil, a bit of milled black pepper. Add some chopped parsley and a few basil leaves.