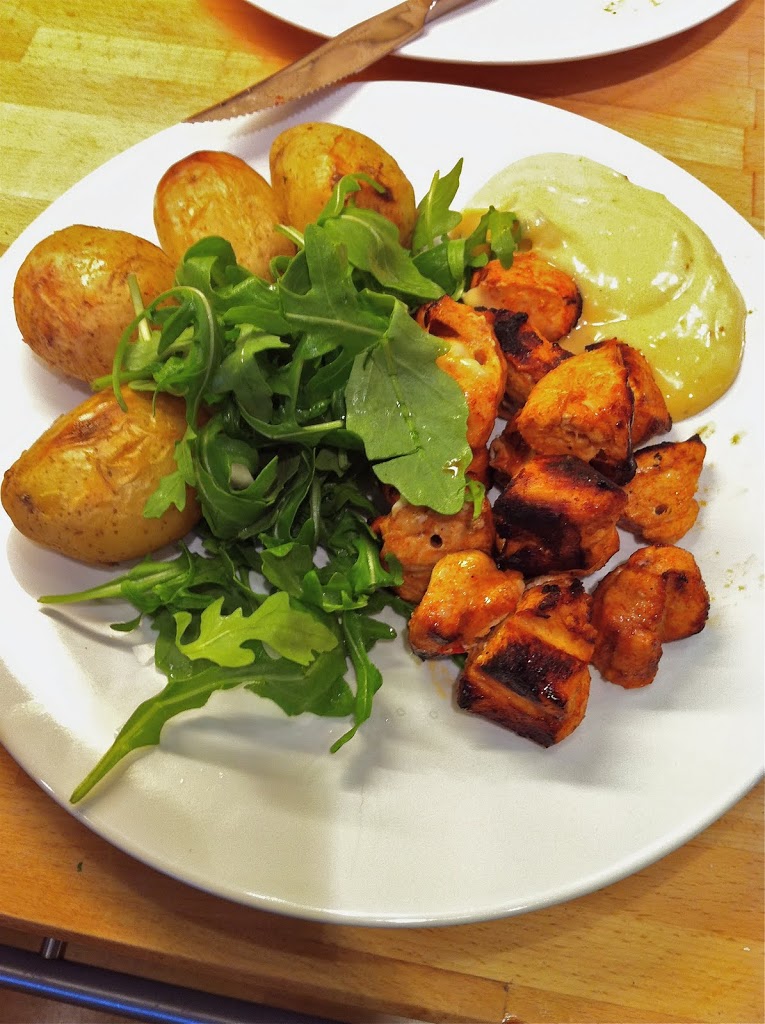 I woke today to a pleasant surprise – Delivery of my very own barbeque!
Barbequeing brings back fond memories of my childhood in Sweden where everyone barbeques as soon as the sun manage to stay up for more than a few hours. We did a lot of barbequeing in my family, at one point I think we had something like three DYI barbeques built with bricks scattered around the garden.
This is the first thing I cooked on the Weber. Gutsy flavours for sure but that's what you want sometimes.I pared it with quite a heady Marsanne which worked quite well. Could also go with a medium bodied red wine.
This makes enough for about 3-4 persons.
Ingredients for the Barbequed Chicken:
700g chicken breast fillets
2 garlic cloves
1 lime
Half a red chili
4 tbsp extra virgin olive oil
2 tbsp smoked paprika powder
A few dashes of Tamari soy sauce
Salt (smoked sea salt if you have it)
Pepper
Preparing the barbequed chicken:
Start by preparing the marinade. Press the garlic cloves and the lime into a bowl. De-seed and finely chop the chili. Mix in the chili and the rest of the ingredients.
Cut the chicken fillets into 2 cm big cubes. Put them into the marinade, mix around to make them all coated by marinade. Put some cling film on top of the bowl and marinade in the fridge for at least 2-3 hours, preferably more. Take it out about once per hour and mix it around a bit.
Take it out of the fridge 30 minutes before you want to start cooking it.
Thread the chicken pieces on skewers and barbeque for about 6-10 minutes. Turning the skewers halfway through.
Ingredients for the potatoes:
750g Jersey Royal potatoes
A few sprigs of thyme
2 cloves of garlic
5 black peppercorns
Salt
Preparing the potatoes:
Put a pot of water on to a rolling bowl. Add about a small handful of sea salt to it. You want the water to be quite salty, a bit like sea water. Leave the skin on the garlic but crush them a bit with a chef knife. Add the garlic to the pot with the thyme and peppercorns.
Add the potatoes and let them boil for 15 minutes.
Drain and let cool.
When you are ready to barbeque put the potatoes on and turn them regularly. They will be ready in about 6-10 minutes.
Ingredients for the chili-aioli:
2 egg yolks (in UK I recommend Burford Brown Clarence Court eggs), at room temperature
2 garlic cloves
1 – 2 limes
250 ml groundnut oil (or any other neutral oil), at room temperature
0.25 tsp red chili paste
Salt (smoked sea salt if you have it)
Pepper
A bit of cayenne pepper
Preparing the chili-aioli:
Press the garlic and one of the limes into a glass bowl. Add salt and pepper, egg yolks and chili paste. Whisk together with a balloon whisk.
Slowly add the oil first to ensure that the emulsion is forming, whisking constantly. Whisk until all the oil has been incorporated.
Check for seasoning and some cayenne pepper if it's not hot enough. Add more salt, pepper, lime juice if needed.